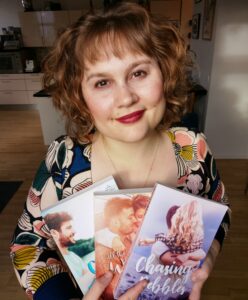 Felicia writes quirky and heartfelt romance with real, flawed characters. She also reads whenever she has a free minute and can't leave her house without her beloved kindle.
Felicia writes in English, but is Danish and lives in Denmark with her husband and son.
When Felicia isn't doing something bookish, she enjoys drawing, dancing (mostly at home with her toddler), cooking (for the most part) and travelling.
She also tends to buy anything with dinosaurs.
Felicia writes books about being true to yourself, and she is passionate about mental health and authenticity. As an adult, Felicia received professional confirmation that she is actually autistic.
Felicia hangs out (too much) on Instagram where she posts about her indie-author life, cute dresses, coffee mugs, musings about autism and anxiety, book recommendations, and much more. She would love it if you came by and said hello. @feliciablaedel
You can read Felicia's interview with Many Books by clicking the link below. In the interview, Felicia talks about her debut novel Chasing Pebbles and about her writing process:
https://manybooks.net/featured-authors/felicia-blaedel-quirky-heartfelt-romance-with-real-flawed-characters