Felicia is a Danish indie author who writes steamy, quirky, and heartfelt romance with real, flawed characters. Felicia is writing a slow-burn, new adult romance series called Without Filter.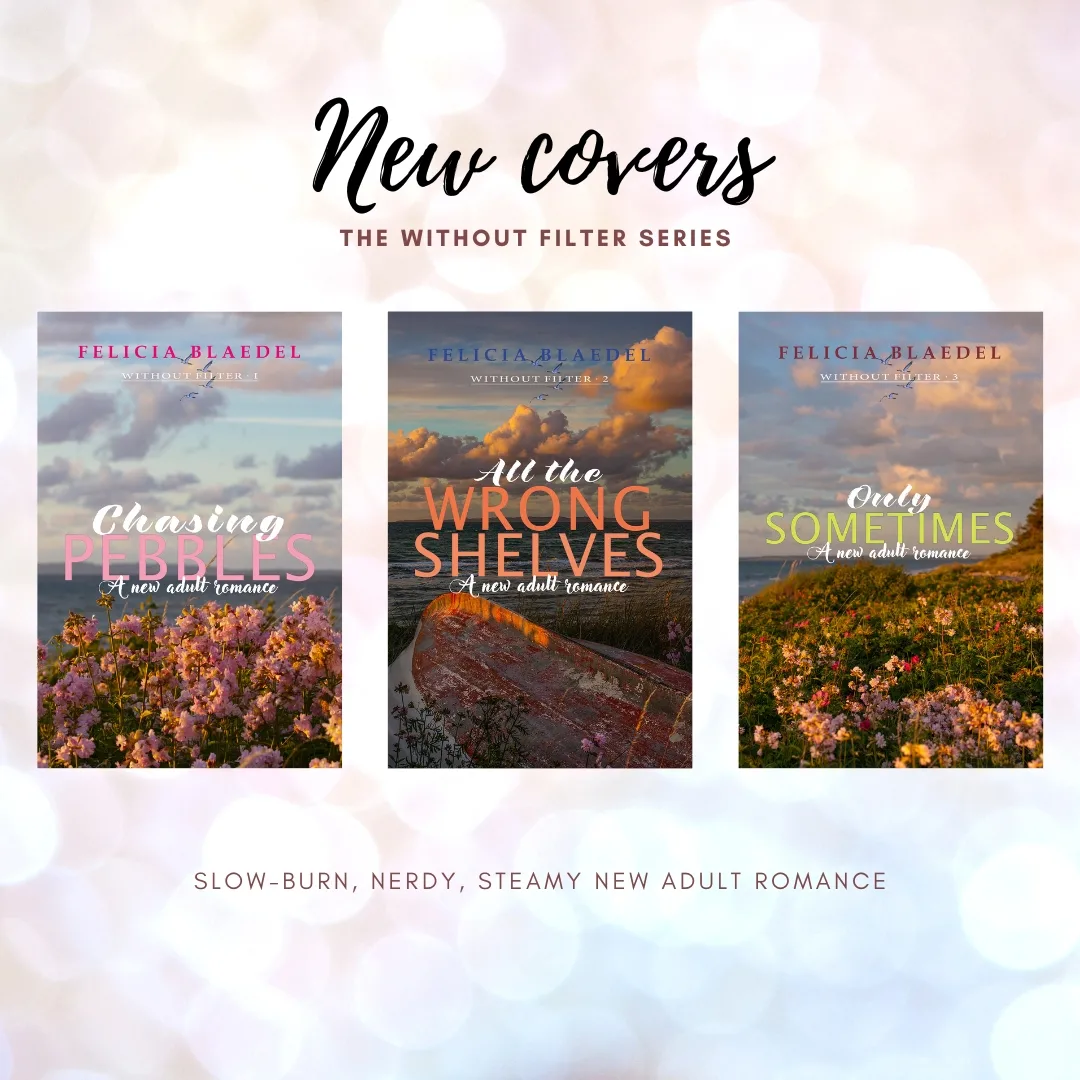 Start Felicia's nerdy, steamy, slow-burn new adult series today ♥♥♥
Sign up to Felicia's newsletter to get Olli & Frida's adorable bonus epilogue (Chasing Pebbles.)
Find The Without Filter Series here (Clickable):
Chasing Pebbles is even free to download on all platforms! So start this nerdy, slow-burn series today 😉
Without Filter 4 is coming in late 2023/early 2024.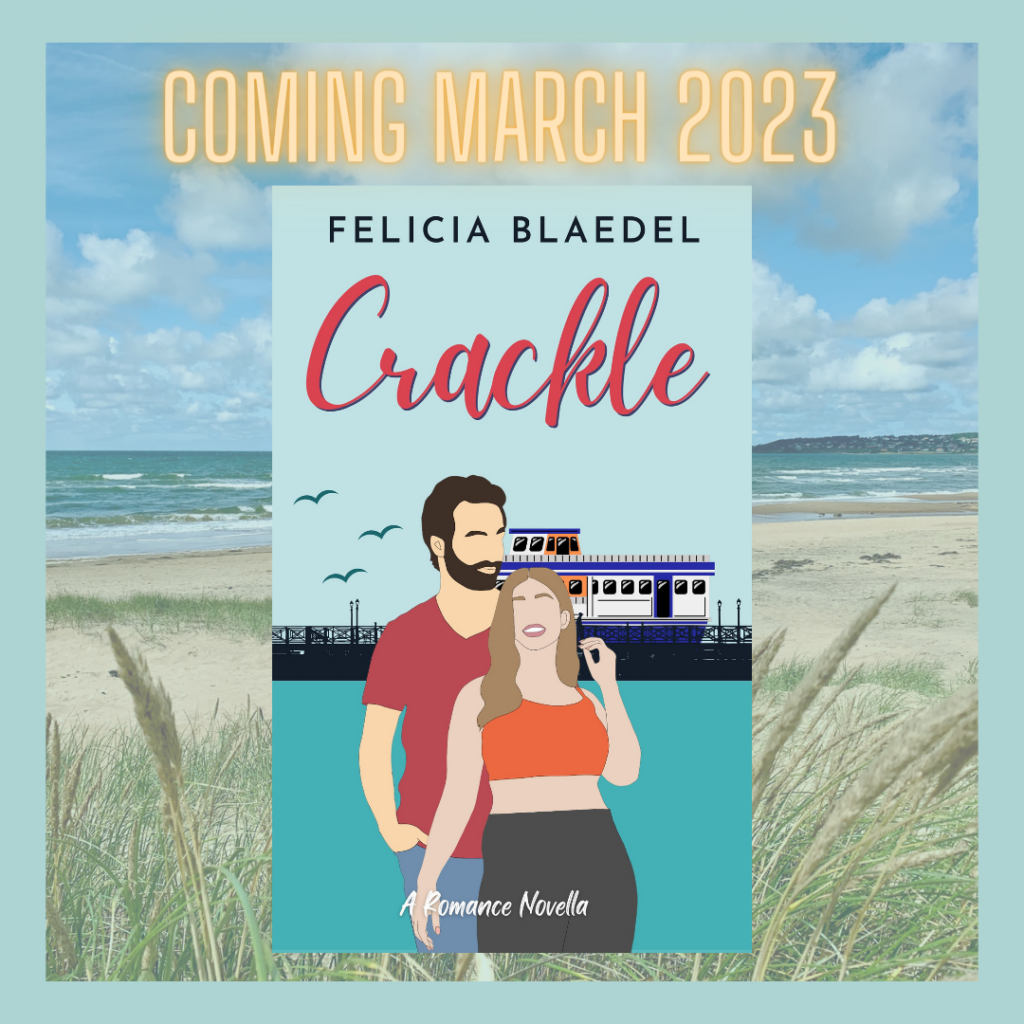 Subscribers to Felicia's newsletter will soon receive a free e-book of her new, swoony, small-island novella Crackle.
Blurb – Crackle
Adrian and Viola might've grown up on the same small windy island, but they didn't live the same reality…
Despite their families' disagreements, a guarded boy and a sunshiny girl became friends over fleeting conversations and mornings spent waiting on the ferry for school.
Adrian rebuilt his life away from the memories he'd rather forget. With hard work he created a peaceful world on his own terms.
That is until he had to return home…
Viola always loved her small-island life, and at twenty-nine, she's happy to be back. Even if some locals—her family included—don't understand her dreams.
As they reunite and realise their connection is stronger than ever, Adrian and Viola must navigate the reasons keeping them apart.
Crackle is a small-island, sweet and steamy novella. It's approximately 38K words with a HEA.
Crackle takes place on a (fictional) island in Denmark.
Tropes & vibes
– A small windy island & apple orchards.
– A driven & bubbly dance instructor heroine chasing her dream.
– A reserved & creative hero making peace with his past.
– Sweet & spicy with a touch of insta love & lust.
– MCs in their late twenties.
– Childhood friends.
– A story about feeling seen & appreciated.
– Dancing. Different kinds.
– Novella with a HEA.
Chasing Pebbles is live now as both e-book and paperback. Read the ebook for free by downloading it from your favourite platform (Amazon, Kobo, B&N, Apple, Google.)
You can expect:
A slow-burn friends to lovers romance
Small town
All the summer feels
A nerdy, talkative hero
A stubborn & compassionate heroine
A theme about being true to yourself
Self-discovery, shame, healing, self-worth, courage, & found family
Sweet romance & steamy scenes
Delicious baked goods
Midnight skinny dipping
Low-medium angst
Real & flawed characters
Complete standalone & part of a series (Without Filter book 1)
Happily ever after
Check out the reviews at Goodreads or read the blurb and more by clicking the button below.
https://www.goodreads.com/goodreadscomfeliciablaedel

Or buy it here:
https://www.amazon.com/Chasing-Pebbles-friends-romance-Without-ebook/dp/B087PGCTR3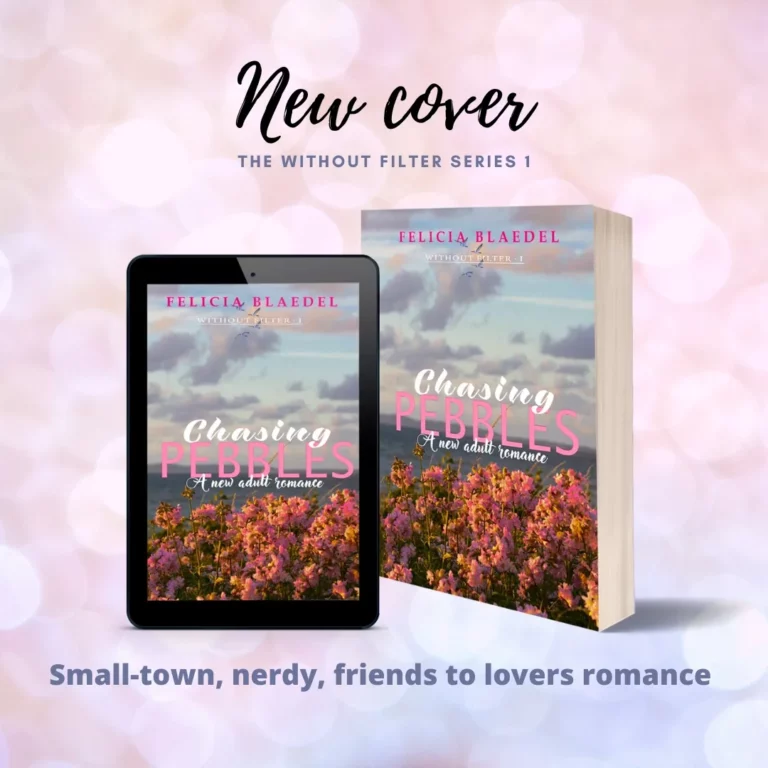 All The Wrong Shelves is live now as both e-book and paperback.
You can expect:
Slow burn, low-angst romance
A temporary roommates situation
Slightly forbidden (Brother's best friend)
Banter & teasing
Steamy scenes
Autumn in Copenhagen
Own-voices story (Autistic heroine)
Libraries & book love
Characters from Chasing Pebbles
Romance that feels real & authentic
 Standalone but part of a series (Without Filter book 2)
Happily ever after
Read the blurb and more by clicking the button below.
Or check out reviews at Goodreads:
https://www.goodreads.com/book/show/56182569-all-the-wrong-shelves
Or buy it here: